Mission Statement
---
To develop boutique residential solutions for our buyers that:
Are bespoke and complimentary to the local environment
Optimise the liveability of the space, both aesthetically and functionally
Exceed their expectations and make them advocates for our business
Stand the test of time from both a design and durability perspective
Our History
---
Caxton Property Developments is a privately owned, Sydney based, property development company established in 1998. Our early projects were focussed on the industrial sector in the inner west of Sydney. Over the past decade our emphasis has gravitated to residential property, with a specific focus on the North West region of Sydney. The Group has successfully completed over a dozen projects from small subdivisions to high rise towers on the NSW north coast. A number of our recent projects have targeted the Seniors Living sector and have been highly successful delivering quality downsizing solutions to a very discerning market. Our strong track record of delivering quality residential projects over an extended period, where the market place has presented its own challenges, reflects our determination to deliver quality residential solutions and a conservative approach to financing our business. Reputation and longevity are key to success, we pride ourselves on delivering the right outcomes for our buyers as this ultimately will deliver the right outcome for our business.
Our People
---
Graham Selig
is our Development Director. Graham has had a long history in the residential construction and development sector. He started out as a carpenter working for a high end residential home builder in Sydney's north west. Here he learnt the fundamentals of quality construction, developed an eye for detail and a passion for natural finishes such as timber and stone. Graham adopts a highly "hands on" role from design & product selection through to delivery, and is intimately involved in every step of the development process to ensure the finished product exceeds our buyers expectations.
Paul Selig
is our Finance Director. Paul commenced in career in banking and finance before moving into the family business. He is involved in the site acquisition process, project feasibility analysis and the sales process. Paul oversees the financing of the Group adopting a conservative approach to leverage and any development risk the Group takes on.
Our Values
---
Caxton is unequivocally committed to delivering high quality residential homes to its many buyers and stands behind its commitment to each and every buyer to deliver a home that will exceed their expectations. These homes are designed and built to stand the test of time.
Our success is borne out of respect, commitment & integrity.
We respect all parties involved in the development of our projects. Our long term relationships with our consultants & sub contractors are based on trust and mutual respect. Project after project they deliver in spades, advising on solutions to the many challenges confronted in any development and achieving amazing outcomes in agreed timelines. Many of our buyers have inevitably become friends though the development process. Our commitment to exceeding their expectations is undoubted. We fully appreciate the magnitude of the purchase decision for our buyers and respect the significance of that decision. Integrity is key in any off the plan sale. The buyer must be able to trust the developer. Caxton takes this responsibility seriously and will not commit to any project if we are not highly confident that we can deliver a high quality product to our buyers.
Our approach to Design
---
Every project is unique and brings with it it's own challenges that can vary from site specific design issues such as slope and stormwater management to classic infill development issues around privacy and tree preservation. Notwithstanding the variety of challenges our design process relies on key principles such as:
the idea that "less is more" when master planning our sites. We can & do deliver greater amenity to our buyers by focussing on building separation, maximising private open space, and bringing sunlight into the living spaces. Often our designed yield from a site will be less than other developers might target, but this is necessary to achieve the desired design outcomes.
Achieving true "open plan" living spaces that are integrated both internally and with the outdoors environment. True open plan living requires "right sized" spaces to be properly connected to ensure a true indoor/outdoor flow.
Room relationships are carefully considered to minimise wasted space and ensure privacy.
Functionality is critical. Our living spaces and bedrooms must be easily furnished, kitchens & laundries must be properly proportioned with adequate bench space and storage capacity.
External architecture must compliment the existing environment.
Our preferred palette is natural products such as stone, brick and timber both internally, externally and in the landscaped environment.
Landscaping is a critical part of the development process that is far too often overlooked or addressed as an after thought.  Landscaping must integrate uniquely with the structure itself and the homes ensuring a natural flow form indoor to outdoor and at the same time enhancing residents privacy. Our landscaping solutions rely heavily on feature lighting, mature plantings & the creation of special interest points in the common property though the use of urns and water features.
Strathmore is located in Pymble at 102-104 Bannockburn Rd. This boutique project comprises 18 luxury dwellings and is a mix of apartments, penthouses and a freestanding villa. The development, is a SEPP Seniors Living 2004 Development that caters for persons 55 years or over or those with a disability. Completion late 2023.
For more information call:
Alex Mintorn – 0499 442 274
Daniel Cook – 0404 483 651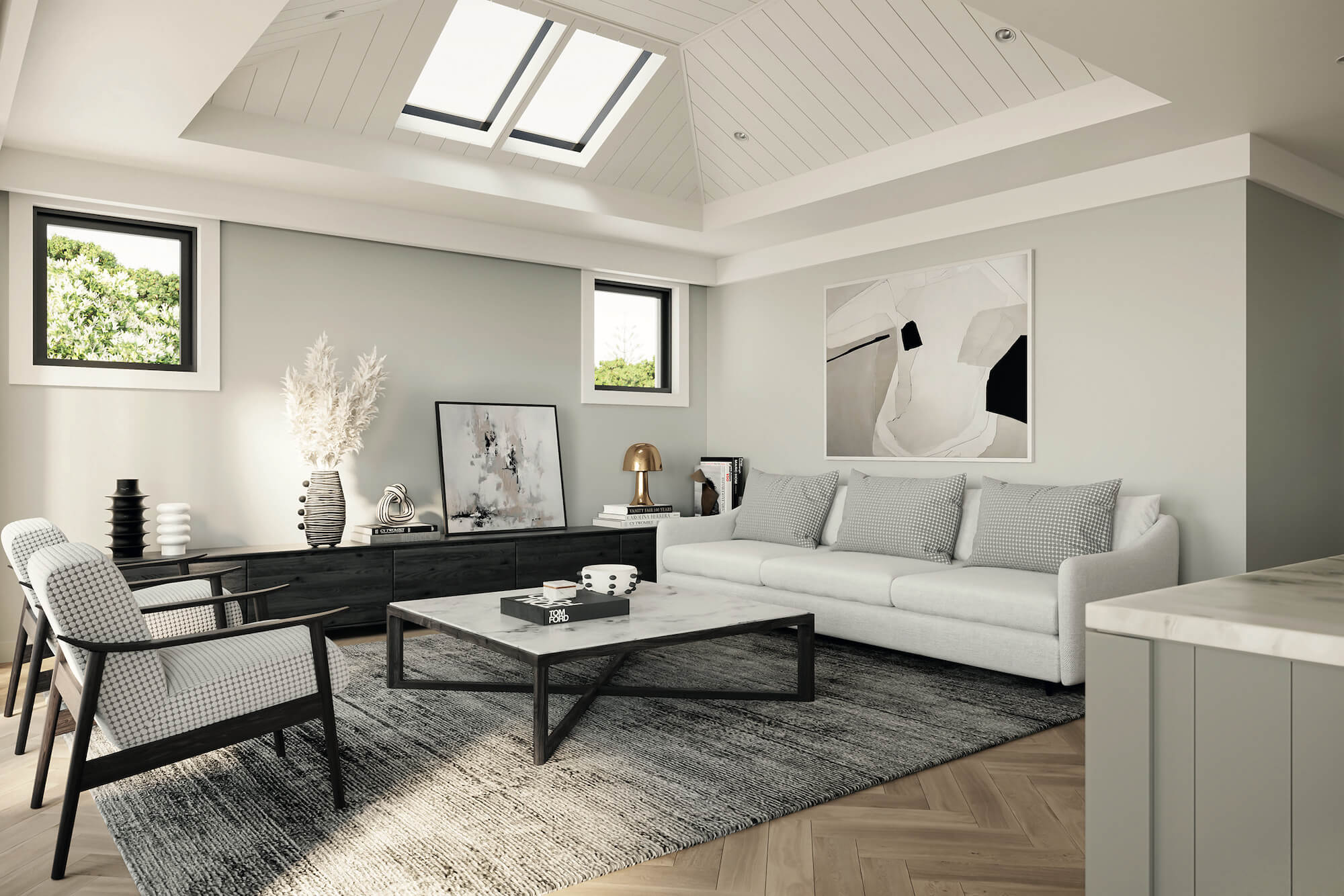 Recent Projects
---